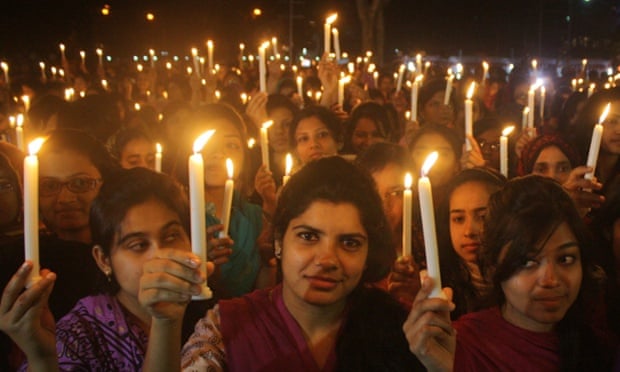 Women march with lighted candles on International Women's Day in Dhaka, Bangladesh last year. Photograph: Mamunur Rashid/Demotix/Corbis
Growing up in Bangladesh, Ratna loved her bike. She was a tomboy, a lively kid with a passion for learning.
But at the age of 14 she was forced into marriage to a man in his mid-20s. She went to live with her in-laws, miles from her family home. Her new family prevented her from attending school, not allowing her to leave the house, and subjected her to both physical and emotional abuse.
When the Guardian spoke to her on Skype last week, that tomboy was gone. Forced into marriage at the age of 14, before facing years of domestic abuse and other hardships, the most depressing thing about her story is that it is so common.
Bangladesh has the highest rate of marriage for girls under 15 in the world. According to figures from Unicef, 29% of girls married by that age, and 66% are wed by 18. By age 11, 2% of girls are married.
Child marriage was made illegal in 1929 with the passing of the national Child Marriage Restraint Act. But driven by enduring traditions, even more enduring poverty and inaction from law enforcement, the country is now showing worrying signs of regression. In July 2014, despite pledging to end child marriage by 2041, the country's prime minister, Sheikh Hasina, attempted the lower the minimum age of marriage from 18 to 16.
The result has been a generation of girls married too young, their routes out of poverty through education and work blocked by overbearing and abusive in-laws.
Ratna became pregnant at 16, but worked in secret to complete her studies. When she sneaked out to take her final exam to complete her education, she was kicked out of the home.
Speaking through a translator, with the support of NGO Brac, Ratna, now 23, is clearly upset telling her story. At one point she breaks down in tears.
The Guardian speaks to another girl whose identity is undisclosed for her own safety. Like Ratna, her parents faced a battle to marry her off after she was sexually harassed by men living in her street. When neighbours complained that she was "not a good girl," her parents decided they only had one option: arrange a marriage as soon as possible.
Aged 16 and similarly academically gifted, she will be married in a year's time to a man seven years older than her, whom she has met only once.
A number of groups are working to address the issue. Brac uses grassroots political activism to campaign against child marriage and violence against women. Through offshoots like the Student Watch Group, the NGO helps students protest when they come across incidents of violence or child marriage in their classrooms.
Through a whole stream of community organisations, activists negotiate with families to persuade them to reconsider marrying off their children, as well as informing the authorities. Ratna herself has gone on to work with Brac.
But the obstacles to such work are tremendous. With 31% of Bangladeshis living in poverty and employment opportunities for young women lacking, families are often faced with child marriage as the only way to secure a future for their children. A dowry – a traditional, yet illegal, practice where the groom's family make a payment to the bride's relatives – is often the only way to make money.
The country's vulnerability to environmental disasters also drives child marriage. Researchers from Human Rights Watch (HRW) found families marrying their daughters off in anticipation of losing their homes due to river erosion, when they wrote a report on the issue last year. Other families said that with natural disasters destroying their crops, marriage offered their children the best route out of a family that could no longer feed itself.
As Heather Barr, senior researcher on women's rights for HRW, said at the time the report was published: "Child marriage is an epidemic in Bangladesh, and only worsens with natural disasters."
As for the 16-year-old, her dreams of becoming a doctor will likely never be realised, no matter how supportive her new in-laws are.
"Most of the girls in our society don't have the option of marrying someone they choose," she says, through a translator. "I had a dream to be a doctor, or to work in business. The dreams I had in childhood are not possible now."